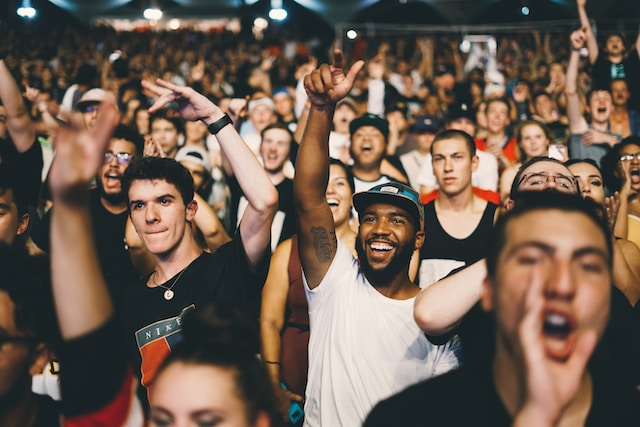 Attending a rap concert is an exhilarating experience, where you can immerse yourself in the beats and rhymes of your favorite artists. Besides the music, fashion plays a crucial role in the rap culture. It's an opportunity to express your personality, individuality, and connection to the rap scene. Dressing appropriately for a rap concert not only shows respect to the artists but also allows you to blend in and enjoy the event to the fullest. In this article, we will explore some fashion tips and outfit ideas to ensure you stand out while staying comfortable at a rap concert.
Understanding the Rap Culture
Rap culture is deeply rooted in self-expression and individuality. It embraces diversity, unique styles, and a bold attitude. Rap concerts are a platform for artists and fans alike to showcase their fashion sense and identity. When deciding what to wear, remember that the rap scene is all about being yourself and being unapologetically authentic.
Embracing Individual Style
At a rap concert, there are no strict fashion rules. It's an opportunity to embrace your individual style and let your personality shine through your outfit. Whether you prefer a laid-back street look or a more edgy and experimental ensemble, the key is to feel confident and comfortable in what you wear.
Dressing Comfortably
Comfort is paramount when attending a rap concert. You'll likely spend hours on your feet, dancing and enjoying the music. Opt for clothing that allows freedom of movement, such as loose-fitting jeans, joggers, or skirts. Breathable fabrics like cotton or blends are ideal, especially if the concert is in a crowded venue.
Stylish and Street-Smart
Rap concerts are a great opportunity to showcase your street-smart fashion. Mix and match urban elements like hoodies, graphic tees, and denim jackets. Accessorize with statement jewelry, caps, or beanies to add a touch of flair to your outfit.
Sneakers or Street Shoes?
Footwear choice is crucial for a rap concert. Sneakers are a popular and practical option, providing both style and comfort. High-top sneakers offer ankle support and are trendy in the rap scene. Alternatively, stylish street shoes can also elevate your outfit and keep you feeling confident during the concert.
Accessorizing Right
Accessorizing is a great way to enhance your outfit and make a statement. Experiment with chains, bracelets, and rings that complement your style. Large, eye-catching earrings are also a hit in the rap culture. Remember not to overdo it – strike the right balance between trendy and tasteful.
Consider the Venue
The venue of the rap concert plays a role in determining your outfit choice. For indoor events, you can opt for more elaborate outfits, while outdoor concerts may require you to dress more casually. Check the concert details and consider the venue's ambiance when planning your attire.
Mind the Weather
If the concert is outdoors, take weather conditions into account when planning your outfit. Bring along a light jacket or hoodie if it might get chilly, and avoid heavy layers on hot days. Being prepared for the weather ensures you can fully enjoy the concert without discomfort.
Outfit Suggestions for Men
Casual street style: Dark-colored jeans, a graphic t-shirt, a stylish bomber jacket, and high-top sneakers.
Urban cool: Joggers, a plain white t-shirt, a denim jacket, and chunky sneakers.
Retro vibe: Vintage band tee, distressed jeans, a flannel shirt tied around the waist, and classic Converse shoes.
Outfit Suggestions for Women
Edgy chic: Leather leggings, an oversized graphic sweater, and studded ankle boots.
Sporty glam: Crop top, track pants with stripes, a windbreaker, and stylish sneakers.
Boho vibes: Flowy maxi dress, layered necklaces, a denim jacket, and ankle boots.
Dos and Don'ts
Do: Express your individual style and embrace your uniqueness.
Do: Choose comfortable and breathable fabrics.
Do: Accessorize to add personality to your outfit.
Don't: Wear clothing that restricts movement or causes discomfort.
Don't: Overdo accessories – keep it tasteful and balanced.
Confidence is Key
No matter what outfit you choose, wear it with confidence. Your attitude and self-assurance will shine through, making you stand out in the crowd. Embrace the rap culture, enjoy the music, and let your fashion sense speak volumes.
Conclusion
Attending a rap concert is not just about the music; it's also an opportunity to showcase your fashion flair and embrace the rap culture. Dressing comfortably, stylishly, and authentically will ensure you have a memorable experience. Remember to stay true to yourself and let your outfit reflect your unique personality.
FAQs
Q: Can I wear a dress to a rap concert?
A: Absolutely! Dresses can be a great choice, especially if they match the urban and edgy vibe of the rap culture.
Q: Are ripped jeans appropriate for a rap concert?
A: Yes, ripped jeans can add a touch of street style to your outfit and are a popular choice among rap concert attendees.
Q: Should I wear high heels to a rap concert?
A: It's best to avoid high heels as they might not be the most practical choice for a concert where you'll be on your feet for long periods.
Q: Can I wear a baseball cap inside the venue?
A: Yes, baseball caps are a common accessory at rap concerts and can complement your outfit perfectly.
Q: How can I add a pop of color to my outfit?
A: You can add a pop of color with accessories like a brightly colored bag, a statement necklace, or colorful sneakers.